A man walks into a bar, ouch
This is a quick 'joke', it takes 2 seconds to say, everytime I tell it. I have no concerns giving a SLA for this joke. On the other hand…
Knock Knock…
Whilst I know *I* can tell this joke in under 5 seconds I'm entirely relying on the person I'm talking to, is it representative to apply a SLA on me?
Compare this to a SOAR playbook: any local task we have control over, but it's not so simple when we wrap a business process around this:
Any interaction that involves human input (especially where that person is not part of our team, and we can't kick them)
A query that potentially takes hours to complete
Unstable technology we can't change
Technology belonging to another team
So how do we apply such SLA to playbooks ?
SLA for an entire Incident
Pro – Quick to configure. Great for small simple playbooks.
Con – Very inflexible.
A timer starts with the incident, if the ticket takes longer, we have a SLA breach.
SLA for each individual task
Pro – Finely tuned
Con – Administrative overheads building and maintaining
Start a timer for each specific task, if that task takes too long we can either alert, skip the task, or take a different playbook route and escalate the process to the senior team.
Timed Section
Pro – Flexible. quick to deploy
Con – none?
E.g. Task 1 starts timer, task 5 pauses it, task 7 resumes it, task 10 closes it.
Knock Knock (including SLA)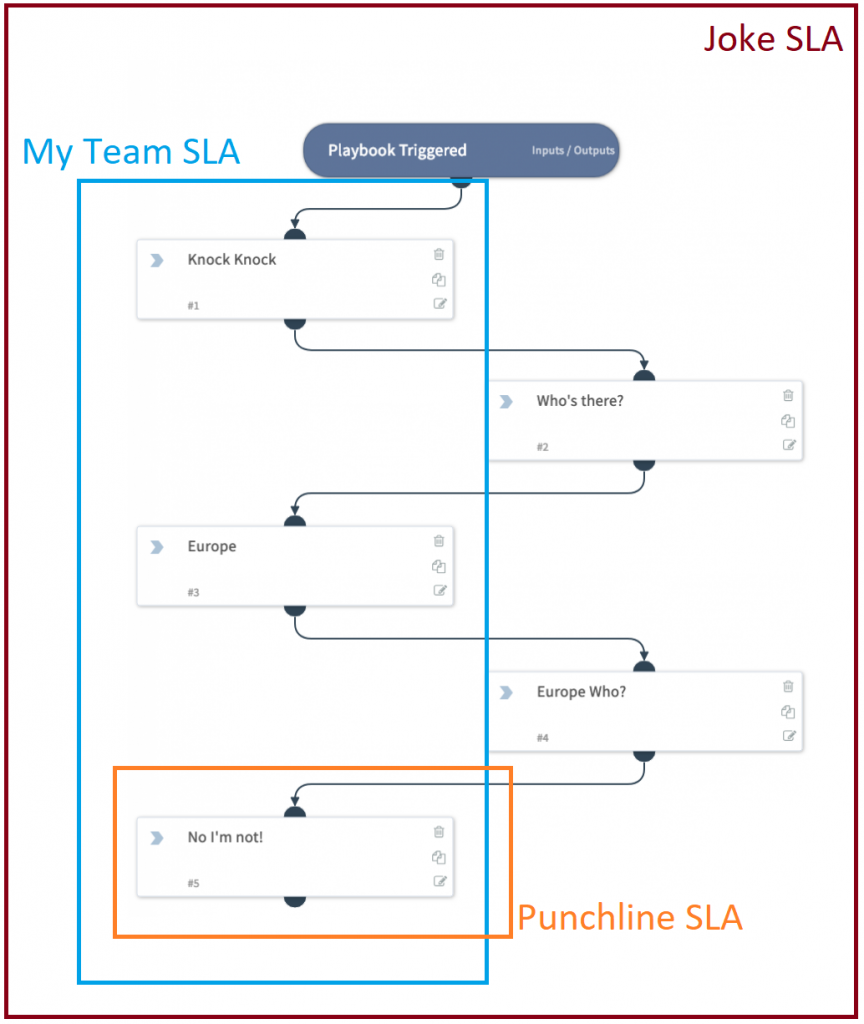 The "Joke SLA" represents the entire incident

Terminology "Incident SLA"

The "My Team SLA" stops and starts
The "Punchline SLA"
Andy